Compassionfest Vegan Holiday Bazaar 2017!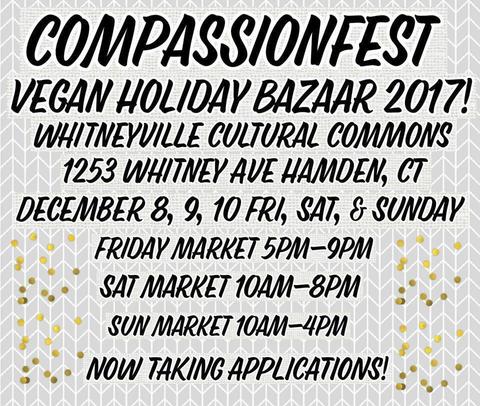 Please SHARE this post! Changes have been made.
Get ready for the 2nd Annual Compassionfest Vegan Holiday Bazaar 2017!
Are you interested in being a VENDOR at Compassionfest Vegan Holiday Bazaar? This may include plant-based food providers, non-profits, crafts, art, up-cycled creations, service & nutritional information providers, animal rights collectives, and other groups. Please make note product line must be 100% vegan. Please read rules & regulations http://www.compassionfest.net/content/rules-regulations carefully. Early Bird Special Ends 9/15.
Vegan soap, candles, and essential oil reps now filled.
Email Us Your Information at ct.compassionfest@gmail.com. Please be patient with a response. Thank You.
1. Name of Business/organization
2. Pictures/logo
3. Website/links/bio