Need A Brand Suggestion? All Food Will Be Donated To CT Food Bank.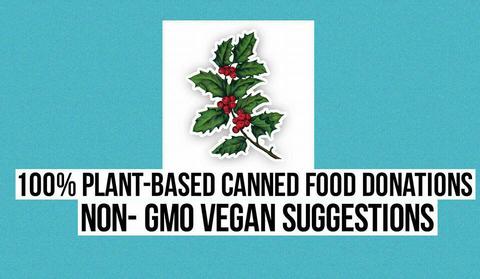 Attendee's have the option of paying $5 admission at the door or bringing a vegan canned food item that will be donated to the Connecticut Food Bank. (All food donations must be in can purchased from grocery store). Make sure food is within expiration date, Choose pop-top lids when available, Low sodium items, No or low sugars, Focus on foods for meals rather than snacks and desserts. Listed below are some Non-GMO Vegan options.
Would you like to add to our list? Add a suggestion in comments.
Looking forward to Compassionfest "Vegan Holiday Bazaar."
See you soon!
Amy's Organic Vegan Chunky Tomato Bisque
Amy's Organic Quinoa, Kale & Red Lentil
Amy's Organic Hearty Minestrone with Vegetables
Amy's Organic Light in Sodium - Lentil Vegetable Soup
Amy's Organic Lentil Soup
Amy's Organic Black Bean Vegetable Soup
Amy's Organic Split Pea Soup
Amy's Organic Lentil Vegetable Soup
Amy's Organic Vegetable Barley Soup
Amy's Organic Chunky Vegetable Soup
Amy's No Chicken Noodle Soup
Amy's Organic Fire Roasted Southwestern Vegetable Soup
Amy's Organic Minestrone Soup
Amy's Thai Coconut Soup (Tom Kha Phak)
Amy's Organic Light in Sodium - Lentil Soup
Amy's Organic Light in Sodium - Minestrone Soup
Amy's Organic Light in Sodium - Split Pea Soup
Amy's Organic Tuscan Bean & Rice Soup
Amy's Organic Light in Sodium - Butternut Squash Soup
Amy's Organic Hearty French Country Vegetable Soup
Amy's Organic Curried Lentil Soup
Amy's Organic Hearty Rustic Italian Vegetable
Amy's Indian Golden Lentil Soup
Amy's Organic Hearty Spanish Rice & Red Bean Soup
Amy's Organic Alphabet Soup
Amy's Organic Refried Black Beans
Amy's Organic Refried Beans with Green Chiles
Amy's Organic Traditional Refried Beans
Amy's Organic Light in Sodium - Refried Black Beans
Amy's Organic Light in Sodium - Traditional Refried Beans
Amy's Organic Vegetarian Baked Beans
Jyoti Natural Foods Punjabi Chhole
Jyoti Natural Foods Madras Sambar
Jyoti Natural Foods Kala Channa (Baby Dark Chickpeas)
Jyoti Natural Foods Delhi Saag
Jyoti Natural Foods Classic Masala Sauce
Libby's 100 pure pumpkin
Tuttorosso Crushed Tomatoes with basil
Tuttorosso Crushed Tomatoes chunky style with basil
Eden Aduki Beans Organic
Eden Baked Beans with Sorghum & Mustard, Organic
Eden Black Beans, Organic
Eden Black Eyed Peas, Organic
Eden Black Soybeans, Organic
Eden Butter Beans (Baby Lima), Organic
Eden Cannellini (White Kidney) Beans, Organic
Eden Caribbean Black Beans, Organic
Eden Chili Beans with Jalapeno & Chili Peppers, Organic
Eden Garbanzo Beans (Chick Peas), Organic
Eden Great Northern Beans, Organic
Eden Kidney (dark red) Beans, Organic
Eden Lentils w/Onion & Bay Leaf, Organic
Eden Navy Beans, Organic
Eden Pinto Beans, Organic
Eden Small Red Beans, Organic
Eden Spicy Pinto Beans, Organic
Thai Kitchen Coconut Cream
Thai Kitchen Coconut Milk
Thai Kitchen Lite Coconut Milk
Thai Kitchen Organic Coconut Milk
Thai Kitchen Organic Lite Coconut Milk