Compassionate Speakers
COMPASSIONFEST 2018
---
Hanifa Nayo Washington
Join songstress Hanifa Nayo Washington on a journey of radical healing through song, sacred play, and authentic connection. Experience deep release for the whole body, mind, and spirit. https://www.handsofhanifa.com/ https://www.musicofhanifa.com/
---
Michelle Pagliarella
Please welcome Michelle Pagliarella The Laughing Yogi  to Compassionfest 2018. Get your yoga mat and water bottle ready to start the morning right. This featured event will start 10am-11am (Main Stage) location.
"When you laugh, it changes you. When you change, the whole world changes."-Dr. Madan Kataria, founder of Laughter Yoga
Possessing a nomadic nature and infectious sense of humor,, Michelle Pagliarella has been practicing yoga for 20 years, in an effort to quell her inner wild child. Living bi-coastally for
decades, she has experienced fully a multitude of cultures as well as developed a keen sixth sense throughout her travels.. Drawing sensitivity from past challenges, she's able to tap into
intuitively what her students want at any given time. Truly a rare gift, Michelle doesn't take the yogic path lightly.
Knowing that yoga is a marriage between body and mind/spirit, Michelle expresses this union in a Vinyasa flow that encapsulates softness and strength. Her philosophy is that you cannot be strong if you are rigid; you need to be able to bend to explore your personal limits. To watch her teach is like watching and underwater dance. Linking breath to movement in traditional Vinyasa, allows the student to tap into their own wellspring of creativity and power. It is from this place where Michelle's strength as a teacher becomes apparent. She has the unique, disarming quality that commands trust from her devotees, and is a fierce companion for her students in exploring their potential, spiritually and physically.
A Registered 200-hour Yoga Teacher, Michelle has trained with many yogi masters in Seattle, Portland (OR), Nevada, San Francisco, Providence, RI, NYC and CT. Currently she is practicing Dzogchen Meditation daily,has a B.S in psychology,lives a cruelty-free lifestyle, and is Buddhist. www.thelaughingyogict.com
---
Mary Lawrence
Please welcome Mary Lawrence as our featured speaker/author at Compassionfest 2018. Talk will start 3pm-4pm at (Main Stage) location. Available for book signing.
Mary is a vegan chef and wellness educator with Well on Wheels Connecticut's premier vegan personal chef service. She is a long-time animal activist who connects the principles of nonviolence, compassion, and unity among all beings with her work and activism. In 2014
She published her first cookbook, Easy Peasy Vegan Eats. Her new cookbook, Eat Vegan with Me, combines techniques for engaging in effective conversation with non-vegans with compassionate cuisine to make the transition to a vegan lifestyle delicious and fun.
In addition to running her business, she is also an adjunct faculty member teaching English composition at Gateway Community College, a Board member of the American Vegan Society, and co-chair of the Green Party Animal Rights Committee.
She holds a certificate in plant-based nutrition from the T. Colin Campbell Center for Nutrition Studies, a certificate
in nutrition and wellness consulting from the American Fitness
Professionals Association, an MA in Communication and Cultural Studies, and a BA in English.
---
Dr. Joanne Kong
Please welcome Dr. Joanne Kong as our featured speaker/author at Compassionfest 2018. Talk will start 12:15pm-1:15pm at (Main Stage) location. Available for book signing.
Dr. Joanne Kong has been praised thoughout the country as an advocate for plant-based nutrition, centered ethically in raising awareness that greater compassion for animals and our planet is vitally necessary for transformative growth and positive world change. Motivated to become vegetarian over 30 years ago upon learning of the atrocities of factory farming, her lectures promoting veganism have been described as "artfully crafted," "a positive message about the way our daily choices can make the world a better place for others and for ourselves," "making a difference and encouraging positive change to happen," and "enlightening and provocative."
Some of Joanne's presentations include appearances at the University of Richmond's Earth Week and TEDx event, Rollins College (Winter Park, FL), the Chrysalis Institute, Richmond Vegetarian Festival, Operation Fitness, Vegetarian Society of Richmond, the Waring School, Virginia Commonweath University, Vegfest Colorado, Ohio State University and Yale University. In addition to her animal and environmental advocacy work, she is a critically-acclaimed and award-winning classical pianist and chamber musician, and empowers individuals from all walks of like through her lectures and workshops on performance anxiety. https://www.vegansmakeadifference.com/
---
Maya Gottfried
Please welcome Maya Gottfried as our featured speaker/author at Compassionfest 2018. Talk will start 1:15pm-2pm at (Main Stage) location. Available for book signing.
Maya Gottfried is the author of Vegan Love: Dating and Partnering for the Cruelty-Free Gal (Skyhorse) and the children's book Our Farm: By the Animals of Farm Sanctuary (Knopf). For Vegan Love (Skyhorse) she interviewed more than 35 vegans (and some or their partners) about relationships from a vegan perspective. In her talk, she offers their collective wisdom (and her own experiences), addressing questions including: When do I tell my date that I'm vegan? Can I turn my partner vegan?, and What are the benefits of dating a fellow vegan?
Farm Sanctuary president and cofounder, Gene Baur said, "Maya Gottfried's delightful book Vegan Love offers great support for those seeking help in navigating romantic relationships while maintaining a cruelty-free lifestyle... fun, honest, and informative."
 
---

Compassionfest Vegan Holiday Bazaar 2017!
Speakers/Entertainment
---
The Bearded Vegans
So Excited to announce The Bearded Vegans will be joining us at Compassionfest Vegan Holiday Bazaar for a "LIVE" podcast recording on Saturday, December 9th at 5pm. You won't want to miss this.
The Bearded Vegans, co-hosted by Paul Steller and Andy Tabar, is a weekly podcast designed to move beyond the vegan 101 and into more nuanced, honest, in depth, unapologetic and often uncomfortable conversations about the ethical grey areas of veganism as well as issues within the vegan community. Top it all off with restaurant reviews, the week's vegan news and a hearty dose of laughter. They may not always find answers, but you'll certainly be informed and entertained.
---
Music For The Doomed
We are thrilled to announce Music for the Doomed. Conceived, written and performed by David Brensilver. Excited to welcome back Abioseh Joseph Cole contributing original poetry and performance.
A classically trained musician-turned-writer, David is the author of the satirical novel "ExecTV" (ENC Press, 2005) and the often-irreverent blog The Daily Maul. He's practiced journalism as a news reporter and as an arts editor and works today at the intersection of art and activism.
---
Tynne Love Raw Chef and Herbalist
We are elated to announce Tynne Love Raw Chef and Herbalist will be joining us as speaker Saturday, December 9th at 2pm at Compassionfest Vegan Holiday Bazaar.
Tynne Love is well known in her field for working with plants as medicine in many ways. She is a full-time practicing Community and Clinical Herbalist. Owner of HERBAL DEVA LLC.,creating tonics and elixirs to boost the immune system and lower stress and anxiety and works with local organic CT farms growing 100's of med

icinal herbs for the company, she is a Raw Vegan chef, and a Certified Essential Oil Educator.
Her talk; Love More, Stress Less
Herbal Adaptogens and Nervines for a compassionate life!
When we have stress our immune system is depleted, and our emotional state is overwhelmed. Nervines and adaptogens are nourishing herbs for the body. In this experiential class you will learn all about Nervines and what a true Adaptogen is....Many are aphrodisiacs! You'll be surprised at how many herbs are called adaptogens for marketing, it's a huge buzz word right now. You will learn the differences between 10 different herbs and you will also have many samples to try. It's one thing to hear about an herb, but to experience the plant and create a relationship from the plant is another! Everyone attending will receive slides from the class.
---
Karen Stevenson
So grateful to announce Karen Stevenson as our guest speaker at Compassionfest Vegan Holiday Bazaar on Saturday, December 9th at 3:15pm.
Karen Stevenson is a technologist and journalist who joined WITNESS in April 2016 after winning a fellowship at the human rights organization to focus on the role of eyewitness video in capturing the abuse of people who are trans or gender nonconforming. The project launched six months later, in October, and she became the full-time program

manager at the WITNESS Media Lab, sharing technologies, practices and methodologies to "unleash the power" of eyewitness video as a tool for advocacy in human rights.
Karen has previously served as BRIC Arts Media's Co-Director of Community Media where she launched Brooklyn's first 24×7 community cable channel that includes the borough's only live, daily news show and several other Emmy-nominated programs. She has also served as Senior Director of Digital Media at Lincoln Center for the Performing Arts.
She has founded several technology companies and co-founded a non-profit media institute that has trained journalists and media entrepreneurs in the U.S., Poland, Albania, Turkey, and the Pacific Islands. She's been a digital media consultant to the American Chambers of Commerce to the European Union and was selected to be the Digital Media keynote speaker at their Annual Plenary Meetings in Warsaw and Istanbul.
---
COMPASSIONFEST 2017
INSPIRING SPEAKERS
---
Victoria Moran
Honored to announce Victoria Moran will be with us for Compassionfest 2017! Listed among VegNews magazine's "Top 10 Living Vegetarian Authors" and featured twice on Oprah, Victoria Moran written twelve books, including The Good Karma Diet and the iconic Main Street Vegan. She hosts the Main Street Vegan podcast; is producing a documentary, The Compassion Project; and directs Main Street Vegan Academy, training Vegan Lifestyle Coaches and Educators. Alongside male winner, Dr. Joel Kahn, Victoria was recently voted "Peta's Sexiest Vegan Over 50.
 
---
Mary Lawrence
Mary Lawrence is owner of Well on Wheels, Connecticut's premier vegan personal chef service. She makes healthy eating easy for busy people by offering personal chef services, "wellness jumpstarts" private cooking and raw food lessons, and cooking parties with menus customized to the client's taste preferences and dietary needs. She is frequent quest on radio and TV, including WNPR's "The Colin McEnroe Show" and WWWLP TV's "Mass Appeal," and has presented at numerous conferences including the North American Vegetarian Society's Summerfest, Boston Vegetarian Society, and Connecticut Vegetarian & Healthy Living Festival. She is a board member of the American Vegan Society, 
has a certificate in plant-based nutrition from the T. Colin Campbell Foundation at eCornell University, and an MA in Communication from the University of Hartford.  Her culinary creations can be followed on the blog,
The Traveling Vegan Chef
(
http://wellonwheels.blogspot.com
).
Her cookbook,
Easy Peasy Vegan Eats
(2014), is a guide for busy people making the vegan transition.  In 2017 Vegan Publishers will publish her second cookbook which is for vegans with non-vegan family and friends. 
---
Tiffany Walker
So excited to announce Tiffany Walker will be a featured speaker at Compassionfest 2017. Tiffany Walker-Roper is an investigator and organizer with the animal rights network Direct Action Everywhere (DxE). Always a fighter for social justice, she has been involved in various causes including LGBT rights, Black Lives Matter and Women's rights. Tiffany has used the power of protest to lead a 200 person strong march through the streets of Hartford to promote equality for all beings on earth, bringing a new opportunity to build strong connections for unity. As a very active member of DxE, Tiffany writes press and blogs, her work has been used in the New York Times, Washington Post and the Wall Street Journal among other outlets. She has also been profiled by The Daily Kos for her work in Open Rescue and has been a featured guest on The Gay Spirit Radio on the University of Hartford's radio station WWUH.
Tiffany is a paralegal, originally from East Hartford, CT and currently lives in Berkeley, CA fighting for animal liberation.
---
COMPASSIONFEST 2016
---



Jasmin Singer
So excited to announce that Jasmin Singer of Our Hen House will be joining us as a speaker for Compassionfest 2016! She will speak on the intersection of gay rights, feminism, and animal rights. Check out her bio below: Jasmin Singer is the author of the memoir, Always Too Much and Never Enough (Penguin Random House Berkley; 2016), which documents her journey to find herself through juicing, veganism, and love, as she went from fat to thin and from feeding her emotions to feeding her soul. Jasmin was named a 2016 "40 Under 40" by The Advocate Magazine and a 2015 "Eco-Preneur" by Go Magazine. The Our Hen House podcast – which Jasmin co-hosts – has been honored twice by the coveted Webby Awards. In addition to co-hosting Our Hen House, now in its seventh year, Jasmin is the host of the Teaching Jasmin How to Cook Vegan Podcast, can be seen in the award-winning documentaries Vegucated and The Ghosts In Our Machine, and has also appeared on the Dr. Oz Show and HuffPo Live. She has contributed to several anthologies (including Defiant Daughters, Running Eating Thinking, and Circles of Compassion), and is a contributing writer for VegNews Magazine. When she's not traveling around giving book talks or presenting workshops on veganism and activism, Jasmin spends her downtime at home in New York City.
---
Sky Raven The Vegan Poet
He has been writing poetry since 1989. Local to Hartford County in Connecticut, writing became a tool for him to express thoughts not easily expressed in conversation. Throughout most of his writing career the emphasis was solely on hip hop. However, after connecting with DXE in Spring 2015, and writing the poem, "I'm not Food," part of the Voices Unheard Collection, he saw a lot of value in spoken word, unrestricted by time, structure or rhythm. Feeling a sense of true artistic liberation, he began writing the Unheard Voices Collection, which was originally going to be a solely vegan collection. However, after some introspection, and analysis of several poems, he realized for the work to be truly complete, many disenfranchised voices needed to be heard through the collection; which now covers a wide range of social justice issues including but not limited to systemic racism, colonialism, the prison and military industrial complexes, the monetary system and spirituality.
---
Mary Lawrence
Mary will speak on "Being a Healthy Vegan". Mary Lawrence is executive director of Ahimsa Health & Harmony, a vegan wellness center based in Hartford, CT, and chef and owner of Well on Wheels, Connecticut's premier vegan personal chef service. She is a frequent guest on radio and TV and speaker at numerous conferences and seminars, including the Valley VegFest (2015), Boston Vegetarian Society (2014), and the Connecticut Vegetarian & Healthy Living Festival (2012). Mary earned a certificate in plant-based nutrition from the Dr. T. Colin Campbell Foundation at eCornell University, an MA in Communication from the University of Hartford and a BA in English from the University of Connecticut. She studied culinary arts at the Natural Gourmet Institute in New York City and has trained in the kitchen of It's Only Natural restaurant in Middletown, CT. Her most recent cookbook, Easy Peasy Vegan Eats, is a guide for people making the vegan transition.
---
Nikki Katz
Nikki will speak about economic justice in relation to food and we are very happy to have her! See her bio below:
"A free-wheeling student of the world, yogi, and spiritual seeker with a penchant for asking big mostly unanswerable questions. My goal in life is to make someone's week every day. I grew up in the Chicago area and then spent years as a suburban CT stay-at-home mother of three children. After a divorce drastically changed my economic and social position, I began to question the mechanics of our money within a moral and spiritual perspective, putting people first. Currently searching for economic truth and justice through reflective storytelling on The Illuminated Edge podcast and working towards a Masters in Divinity at Yale Divinity School. A deep belief in impressive and inextricable interconnection and basic goodness underlies my inquiry."
---
Brennyn Molloy
Brennyn with The House of Compassionate Gratitude . Over the last two years I have been on a path of personal development that led me to Virginia Beach. I have explored my own soul through music, meditation, mindfulness, and attending a variety of Churches. Over all following my intuition in seeking a home and a way to use my gifts to make the world a more peaceful Loving place. Focusing on the healing arts and the souls journey, to better understand my own and how I am meant to help others. This is my path. To encourage people on their path of awakening, and soul growth. There for adding to the Universal Consciousness. As a clairvoyant intuitive, my work focuses on the use of my insight to help people see, understand, and heal their relationships on the soul level. This includes relationships with partners, family, friends, your work in the world, and with oneself. The goal being, to see these relationships as they are now and where they come from in order to know what is next. I work with all relationships and energies, often this includes connecting with those who have crossed over. I teach those I work with how to know, Love and connect with themselves. Knowing yourself as a soul and understanding your Karma and relationships allows you to grow and make decisions in your life that are in line with your purpose. We all are here with a purpose and plan.
"Luminous beings are we, not this crude matter" Yoda
---
Patricia Horn O'Brien
Pat is a member of the Guilford Poets Guild and in 2013 co-founded a poetry group in the Old Saybrook area, CT River Poets. She's facilitated poetry workshops at York C.I. where she's volunteered with their Prison Hospice Program. Pat's been published in several periodicals, including CT River Review, CT Review, Embers, Pulp Smith, Poet Lore, Caduceus, Red Fox Review, Freshwater and Connecticut Review, She is the recipient of several prizes, including from Trumbull Arts Counsel, Embers Magazine and from Acton Library in Old Saybrook. She is Old Saybrook's first Poet Laureate. Her first collection of poetry, When Less Than Perfect is Enough, published by Antrim Books, is now in its 2nd printing.
---
Nancy Correa
Nancy creates poetry and the artwork that are a synthesis of the 30 years as a vegan nonhuman/ human animal rights activist. She has borne witness to and documented the atrocities considered standard in the flesh, hens egg and animal milk agriculture. She has participated in hunt sabotages and other forms of direct action. The nonhuman animals have taught her myriad lessons in compassion that she wants to impart through activism, which is her term for the combination of art and activism.
---
Mark Mcguire-Schwartz
Pleased to announce Mark McGuire-Schwartz to Compassionfest 2016. Mark McGuire-Schwartz sometimes imagines that he was raised by bears, and it shows. Mark is the Senior Editor at Hanover Press, and Director of Poetry Institute–New Haven. He is the originator of a new poetic form, called the 17. Mark's books of poetry include Loss and Laughs, Love and Fauna and 289, a book of 17s. His book Attic Chest, finding my parents in a dusty box, will be published later this year. Mark has published poetry and prose in many journals, including Carte Blanche, Blink Ink, Theodate, Connecticut Law Journal, and on the bottoms of rocks. Mark has an MFA degree from Southern Connecticut State University, and he teaches at Housatonic Community College.
---
Mary Elizabeth Lang
Mary Elizabeth Lang, author of the full-length poetry collection Under Red Cedars (Little Red Tree Publishing, 2009), earned her MFA from Bennington Writing Seminars. She formerly taught writing at Southern Connecticut State University. She is amateur naturalist and environmental advocate.
---
---
Compassionfest 2015
FEATURED SPEAKER:
Victoria Moran
Author of Main Street Vegan and The Good Karma Diet, Victoria Moran reveals why making your food and lifestyle choices based on a reverence for all creatures and our planet is the best diet out there. Unlike most diet plans on the market, which focus on fat or nonfat, carb or low-carb, The Good Karma Diet reveals that the secret to looking and feeling great is actually quite simple: Treat our planet and all its
inhabitants well. In this revolutionary book, Victoria Moran goes beyond restrictive diet plans and obsessive calorie counting to explore how being mindful of the world around us is the best diet plan there is. Follow this wise diet and lifestyle program and you will find yourself waking up in a good mood more often, and your skin will have that luminous look that bespeaks health and clean living. The Good Karma Diet includes more than 30 recipes.
2:00 pm on the Main Stage
---

WORKSHOP:
Stephanie Hope
Stephanie Hope, of Hope Holistic Wellness, is a health and wellness coach, registered nurse, healer, artist and activist committed to supporting holistic health in the greater New Haven community. Magic happens when people come together in groups. Group coaching empowers individuals to move forward in personal self-discovery and goal achievement while serving as catalysts and witnesses to the transformation of others. The group process has a synergetic power that accelerates growth.
Artemis Collective is a weekly wisdom circle open to all self-identifying adult women. Join together in sacred space to listen and to speak; to share and to be received. Each circle will include time for centering and meditation, though most of the session is dedicated to the group process.
Time and space to be announced
---

SPEAKER:

Mary Lawrence "Vegan Jumpstart: Get Healthy in the Kitchen."
So excited to have Connecticut's celebrity vegan chef, Mary Lawrence with Well on Wheels. Have you been thinking about switching to a vegan diet but don't know where to begin? Chef Mary Lawrence will share tips and strategies to help you overcome any obstacle. She will address common concerns about where to get your protein, calcium and iron on a vegan diet, how to make food appealing to friends and family, what pantry staples are essential for every vegan household, and how to save time, money and your sanity in the kitchen.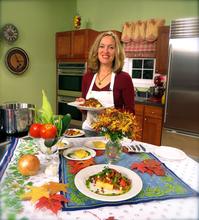 Mary Lawrence is executive chef and owner of Well on Wheels, Connecticut's premier vegan personal chef service. She is a public speaker and frequent guest on radio and TV, including WNPR's "The Colin McEnroe Show," WWLP-TV's "Mass Appeal," and WTNH-TV's "CT Style." Mary has a certificate in plant-based nutrition from the T. Colin Campbell Foundation at eCornell University and has taught at the Connecticut Culinary Institute and numerous programs and conferences throughout the U.S. Her recipes have been included in the Best of Vegan Cooking (2009) by Priscilla Feral and VegCooking.com. Her most recent cookbook, Easy Peasy Vegan Eats (2014), is a guide for busy people making the vegan transition. She is also a writer and food blogger, and her culinary creations can be followed on the blog, The Traveling Vegan Chef (http://wellonwheels.blogspot.com).

12 Noon - Room in #2